COME THE NIGHT
A GRIGORI VAMPYRE NOVEL: TALES OF THE IRISH VAMPYRES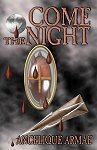 COME THE NIGHT by Angelique Armae
Publisher: Amber Quill Press
ISBN 1-59279-011-9 (Electronic)
ISBN 1-59279-999-X (Paperback)
Cover by Angelique Armae Copyright ©2001
Genre: Vampire/Dark Romantic Fantasy
Angels...Vampyres...Heaven and Hell...
In medieval Ireland two worlds collide and the term dark ages takes on a whole new meaning...
Come The Night. In medieval Ireland, an evil entity stalks Lazarus Conlon, Vampyre patriarch, threatening the safety of his wife and his family tribe. But to conquer this enemy, Lazarus must first fight his own demons including a sacred heritage descended of fallen angels. Amid this strife, Lazarus learns his only true hope rests within the heart and soul of a mortal tracker—his wife—a woman born to hunt his breed. Can his evil antagonist be defeated?
Neomina Delacroix is no stranger to the world of the Vampyre. As appointed heiress of the Tracker Council and the keeper of the Amulet of Christ and the St. John Stake, Neomina's allegiance to her people is sealed in blood. But the true nature of her heritage has been kept secret for years, revealed only to her father—Gerard Delacroix—and to her husband —Lazarus Conlon. When terror strikes the Conlon Tribe, Neomina is their only hope. Can her heart outweigh the duties of her soul?
---
REVIEWS AND AWARDS FOR COME THE NIGHT
A FICTIONWISE BEST OF THE BEST BOOK!
(one of the top 5 best selling dark fantasy books of the year!)

Featured on MidWest BookReview Bookwatch TV!

Winner: Golden Rose Award - Best Vampire Novel
Winner: Word Weaving Award For Excellence in Literature
Winner: Timeless Tales Gold Medal Award
Winner: LoveRomances Reviewer Choice Award
FINALIST: Sapphire Awards

"Author Angelique Armae pens a groundbreaking mythology regarding vampyre and archangels in Come The Night. The tale begins in Rome 476 A.D., continuing in Ireland 1095. Christian mythos lends a powerful structure to the tale, including an amulet containing a few drops of Christ's blood and a stake made of the wood of the cross and the silver from the platter that server John the Baptist's Head. A new interpretation of the events in the Garden of Eden provides the existence of the Vampyers and the Nephilim. Such profound theology lends the tale a uniquely original flavor that separates it from the vast market of vampire books. With powerful yet vulnerable characterizations, an intricate plot, and a scintillating voice, Armae presents readers with a novel impossible to put down, and leaves them hungering for the next book of the series. Come The Night earns the WordWeaving Award for Excellence."—Cindy Penn, Word Weaving
"Our Gold Medal is a special award given to a title described as an instant classic, a book that breaks new ground within the genre. Think you know all about vampires/vampyres? Guess again. I've read a lot of vampire romances and thought I knew them. This author has put a whole new perspective on the vampyre, their origins, types, loyalties, etc. I've never heard Christ mentioned in any context with a vampyre, aside from the danger of them touching a cross. And who, besides Ms. Armae would have thought to give a vampyre a Guardian Angel or having the vampyre redeemed by Christ's blood? This is a marvelous book written by one fantastic writer. I found myself so involved in this story that I nearly cried when Lazarus was hurt and wanted to slap his wife, Neomina, silly a few times. I just can't praise either the book or its originator more. Unfortunately, as far as I could find out, this is her first vampyre novel. I and everyone else who loves vampire romances certainly hope it won't be her last. According to her web site, she is currently working on another vampire novel under the name M. A. duBarry and there is nothing on when it will be finished and published, so we wait...impatiently."—Irene Marshall, Timeless Tales Reviews
Rated an 8 out of 10!..."Wow, an original vampire story!!! These are few and far between...I found the writing style riveting. I actually had to force myself to put it down on the first night as I would have gone on to finish it in 1 sitting (and not slept at all!)...Come the Night is Angelique Armae's first book, not that you'd have guessed from reading it, and hopefully it will not be her last. It is possibly the most unusual vampire tale I have read since A Taste of Blood Wine (Freda Warrington). Excellent!"—Lesley Mazey, The Eternal Night E~zine
"It's 1095, Medieval Ireland, and Ms. Armae gives us a dark thriller pitting vampyres against demons...Come The Night is a complex story, a dark journey of the soul."—Elaine Moore, author of Madonna Of The Dark
"5 STARS" ~ SimeGen ~ —Carol Castellanos, The Midnight Reviewer
"...4 1/2 stars!...A fast-paced book that will blow your mind. Once you start, you can't put it down. Ms. Armae wrote a book that has romance, suspense, and horror wrapped up in one...A must read for those who like a book that is mind-blowing, adventurous, on the dark side..."—Karen Simpson, LoveRomances.com
---