ANGELIQUE ARMAE
The Latest News:
Meet Angelique Armae in Saint Louis!
Date: April 27 - May 1, 2005!
Angelique will be doing a workshop with New York Times Best Selling author Laurell K. Hamilton. The workshop will be geared toward aspiring writers and will focus on the dos and don'ts of creating unique vampire characters.
THE TANGLED WEB has been re-issued!
Due to popular demand, this dark romantic fantasy is back again! To get your copy of Angelique Armae's French Revolution Vampire novella, go to Fictionwise and look for AN AMBER ANTHOLOGY! THE TANGLED WEB is the prequel to Miss Armae's upcoming French Revolution vampire novel THE SCARLET WEB.
Links:
COME THE NIGHT
McNAMARA'S GHOST
THE TANGLED WEB

---
Upcoming Books: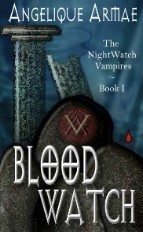 BLOODWATCH
Book I of the NightWatch Vampire Series.
by Angelique Armae
ISBN: 1-893896-36-6
Release Date: 11/04
Cover Art: copyright J. Piraneo 2004
Publisher: ImaJinn Books
(sequel: THE WATCH KEEPERS by Candace Sams due out 12/04)

A Quasi Vampire…
A Celtic Princess…
An evil entity older than time…
In Regency Ireland, a dark legacy re-emerges from the depths of the Vampire realm, leaving three souls trapped between two worlds... Donovan Bramwell is heir to an ancient Celtic vampire kingdom and its earthly branch known as the Night Watch, a secret organization made up of vampires and humans protecting the mortal realm. But when the time comes for him to ascend to the throne, Donovan refuses. He's been harboring a deadly secret, a bite inflicted by an evil entity. And only Donovan knows he's the one soul capable of destroying the very world he was born to protect. Now his enemy has returned and Donovan is determined to save the Night Watch, even if it mean's sacrificing his own soul. But as Donovan prepares to carry out his secret plot, a female quasi vampire thwarts his plans and forces him to relive issues he's spent centuries trying to forget…
Born a royal Celt with Vampyric blood, Iceni lost her family and her tribe to the Romans and the deadly vampires who befriended the Empire. After spending centuries trying to fight the dark souls who took away her world, Iceni now has the chance to finally avenge her parents' deaths and take back the sacred relic housing her father's ancient powers. But to do so, she needs Donovan Bramwell to join her cause. And considering she didn't exactly use conventional means to get the man's attention, she must first convince the Night Watch heir she's not the enemy…
Suffering from a bite gone wrong, Vastos, a Vampyric prince older than time, returns to man's world determined to cure the ailment inflicting his soul. But to do so, he must fight his greatest antagonist—Donovan Bramwell—the one soul keeping him alive, yet causing his demise. Vastos has two choices, conquer the Night Watch and take the throne away from Donovan, or destroy Iceni and take full control of her father's powers. And to a dieing vampire, choosing one option over the other really doesn't matter…